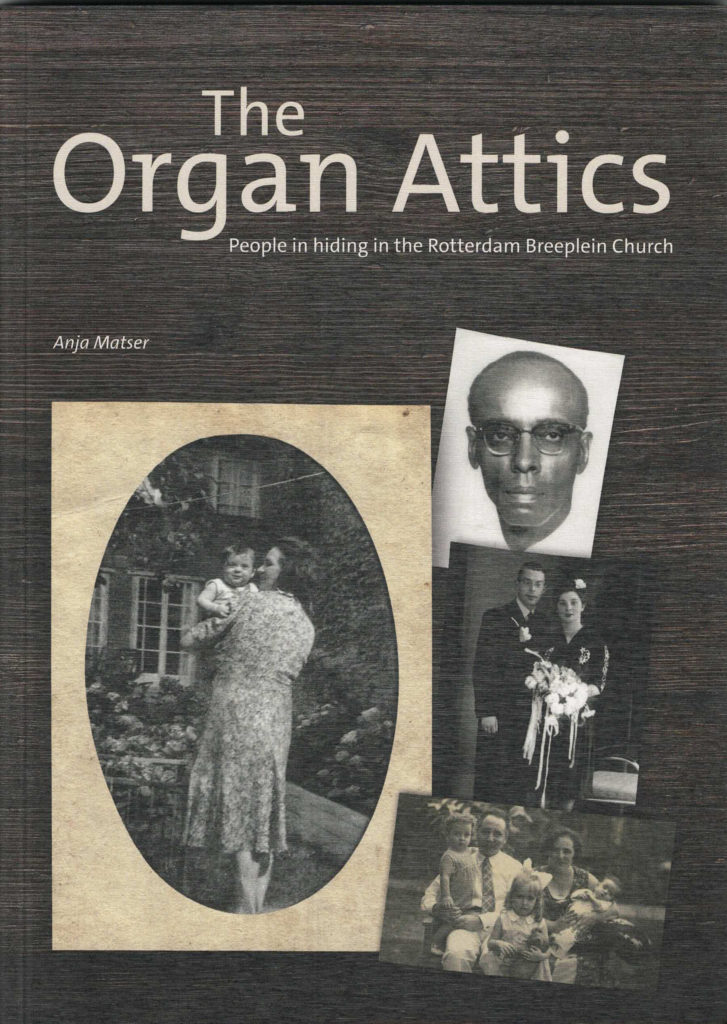 The story recounted in the Organ Attics: three Jewish couples go into hiding for almost three years in the attics high on both sides of the organ of the protestant church in Breeplein, Rotterdam. The sexton, the Reverend and their families look after them. The youngest couple has a child. A Surinamese ophthalmologist acquired knowledge of gynaecology and, together with the Reverend's wife and a lady from the resistance, helped bring the baby into the world.
Everyone survived the Second World War.
Who could dream up such an improbable story? Nobody. However, this is a true story.
Anja Matser (1961) is a theologist and knows the Breeplein Church well. The grim story of the refugees had her in its grip and she could not rest until she had researched it thoroughly and published a book.
De Orgelzolders. Onderduikers in de Rotterdamse Breepleinkerk (in Dutch)
Author: Anja Matser
128 pages
Publisher: Wist u dat … Uitgeverij Rotterdam
Price € 18,95 (excluding shipping costs)
To celebrate the 75th anniversary of the liberation of the Netherlands, an abridged version of the book about the Jewish refugees in the Breeplein Church of Rotterdam has been translated into English.
The Organ Attics. People in hiding in the Rotterdam Breeplein Church
76 pages
Publisher: Stichting Schuilplaats Orgelzolders Rotterdam
Price € 10 (excluding shipping costs)
To order the books
You can order the books using the form below. Within two days after submitting the form, you will receive an e-mail with payment instructions.
See the table below for prices including shipping costs
---
Price table including shipping costs
Prices including shipping costs for the Dutch version
| | |
| --- | --- |
| Number of books | Total incl. shipping costs within the Netherlands |
| 1 | € 23,55 |
| 2 | € 42,50 |
| 3 | € 64,25 |
| 4 | € 83,25 |
| 5 | € 102,25 |
| 6 | € 121,25 |
| 7 | € 140,25 |
| 8 | € 159,00 |
| 9 | € 178,50 |
| 10 | € 197,00 |
Prices including shipping costs for the English version
Number
of books
Total incl. shipping costs within the Netherlands
Total incl. shipping costs within the EU
Total incl. Shipping costs outside the EU
1
€ 14,00
€ 18,00
€ 18,00
2
€ 24,00
€ 30,00
€ 30,00
3
€ 38,00
€ 40,00
€ 54,00
4
€ 48,00
€ 50,00
€ 64,00
5
€ 58,00
€ 60,00
€ 74,00
6
€ 68,00
€ 70,00
€ 84,00
7
€ 78,00
€ 80,00
€ 94,00
8
€ 88,00
€ 90,00
€ 104,00
9
€ 98,00
€ 100,00
€ 114,00
10
€ 108,00
€ 110,00
€ 124,00